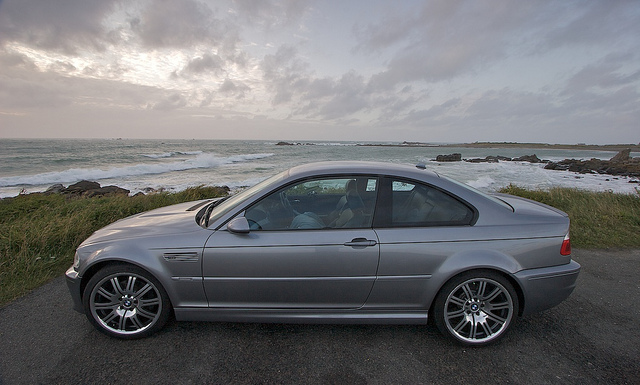 This is my first M car! A 2003 silver/grey e46 M3! The following diary lists details of the work I have done on the car and the highlights of its adventures.
Diary
30-05-08: Purchased Racelogic Performance box.

07-06-08: Driver seat lumbar support wiring loom repaired. Photos
23-06-08: Front tyres replaced and nitrogen inflation. News
06-07-08: Bootlid BMW roundel badge replaced.
15-07-08: Custom interior camera mounts fabricated. Photos
19-07-08: Front brake discs and pads replaced. Article
24-07-08: Goodridge braided hoses fitted and Dot 5.1 fluid used. Article
02-08-08: 1st Le Mans track day – hit rear drivers side quarter panel. Article (Data analysis)
12-09-08: Replaced rear brake pads.
12-09-08: Rebuilt most of the rear end except for inner rear panels.
20-12-08: Overhauled handbrake system.
28-03-09: Full service – Inspection II.
07-08-09: Maison Blanche Circuit Track Day – Le Mans
08-08-09: Bugatti Circuit Track Day – Le Mans
18-10-09: Attempted (and failed) to upgrade the HK subwoofer speakers.
16-11-09: Wheels renovated and new rear tyres fitted.
16-10-10: Oil and filter changed.
23-10-10: Entered Charity Sprint. 6th Quickest Car 13.72s. News
17-12-10: Front windscreen replaced and stone chips around it repaired.
29-06-11: Old battery replaced with new AGM version.
25-07-11: Front tyres replaced with Kumho KU31
30-07-11: Bugatti Circuit Track Day – Le Mans
01-08-13: Replaced inner EML sensor
04-01-14: Replaced all plugs, coils and front EML sensor
12-01-14: Quick oil change. Found viscous fan in pieces and belt pulleys worn
20-01-14: Replaced water pump, viscous coupling, viscous fan, lower PAS pipe, upper pulleys, drive belts and fuel filter. Refilled with new coolant and PAS oil. Cleaned the throttle linkage out with brake cleaner to try and ease up the EML problem.
27-01-14: Car at DD Autocare for paint job on driver's door, front bumper, front wings and bonnet.
02-02-14: Replaced bonnet badge.
20-05-14: Removed alternator in 15 mins during lunch. Found it dead with bits inside. Ordered a new one.
07-06-14: Replaced all paper HK speakers with uprated ones.
27-07-14: Gearbox oil and brake/clutch fluid replaced with DOT4. Gear shift linkage lubricated.
10-08-14: Cleaned air filter and MAF to help improve MPG.
24-08-14: Drove to and did a lap of the Nürburgring Nordschleife.
12-09-15: Replace front left wheel speed sensor.
21-06-16: Rear window refitted to stop leak and small rust patches fixed in doors and on front drivers wing. Rear bumper resprayed.
26-09-16: Second set of alloys restored in Cardif.
07-10-17: Clutch replaced by the two Daves.
Things that need doing
Quick shift to replace plastic item
Possible wheel bearing
Suspension and bushings
Gearbox oil change
Gear shift tighten up
Keep an eye out for future updates to this page. I will try and link to the articles or blog posts that refer to this overview.