Before the next track day arrives I thought it would be wise to provide a very quick and dirty analysis of the data I collected with the Performance Box. If I get the chance to go further in depth and make comparisons against the other car, I will. That relies on Grant finding his data files. They are probably still on the memory card in the machine.
Le Mans Bugatti Circuit 2008
Following is a GPS analysis of some laps around the circuit. You will notice that one of the corners is not quite right. This was due to some remodelling of the circuit that was not reflected in the overlay.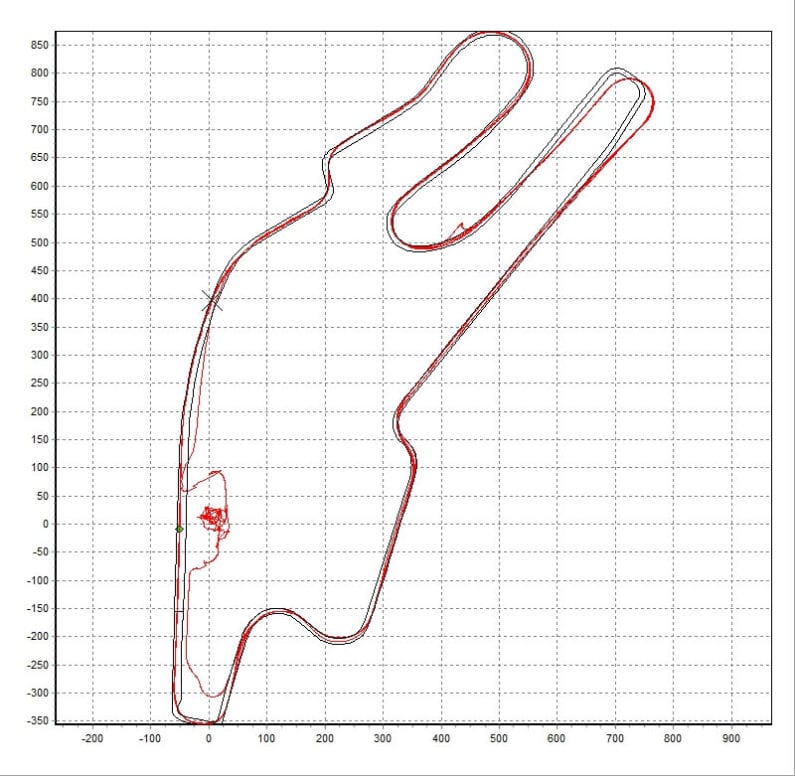 Max M3 speed of the day

I was fortunate to achieve the highest M3 speed of the day at 120.6MPH . This may have been due to one or more of the following two reasons: 19″ wheels provide a higher top speed, even though the lower profile tyres create a similar circumference, or, I kept the throttle down for a bit longer round the curve. The graph is set to show speed, lateral g and logitudinal g. In relation to the above overlay, the main straight is down the left hand side, starting at the bottom. It is really interesting to see in lines and numbers what you remember from the day.
Lap times
On the day, Grant squeezed in the best lap time. This was important for him because I had achieved a great run a bit earlier in the day and I think he was sweating a bit. Actually, he was sweating a lot after the 7 hot laps he did to beat my time! Don't tell Grant, but I am secretly relieved about this because we have proof that the modifications he has done have had an effect. Without this proof, it might be much more difficult for us both to rationalise future mods with our accountants!
| | | |
| --- | --- | --- |
| Car | Shane | Grant |
| Lap times | 2'09.4″ | 2'07.9″ |
| Max Speed (MPH) | 120.70 | 118.51 |
There is clearly a lot more info that can be shared from the box. We will try to get something else up before we go. I would really like to get a short animation of the fasted laps overlaid.