I'm currently on holiday. For a bit of an experiment, I have signed up to OnTheRoad and thought I'd give the service a shot. we go along so keep checking back to see what's new!
UPDATE: The OnTheRoad service has been shut down and we lost the history of the trip. Just goes to show that you should look after your own data if you want to keep it safe. Here is a record of what we put on there:
2010-03-02 – Getting ready
Delilah has had a lot of work done to try and maximise the chance that she will make it all the way up North and back. The ferry has been booked…. and that's about it so far. Better get on with more planning!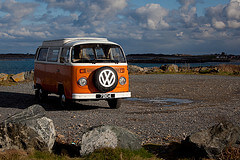 GPS:49.46098400000000 -2.56805400000000
2010-05-20 – Nearly ready
Delilah is nearly ready to go. All she needs now is the accelerator pedal re-installed after a bit of welding last night. She needs a good clean. And finally, she needs to be packed up! She looks excited at the prospect of going on the boat again… a bit like me!
2010-05-28 – Oil change completed!!
Final engine tweaks then that's all the mechanical stuff sorted!
2010-05-29 – Nearly off The Rock
Checked in to Condor and now relaxing in the back of the camper!!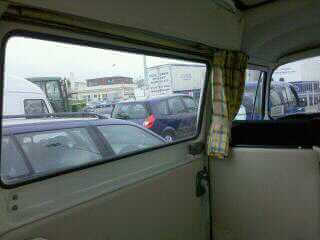 GPS:49.45849700000000 -2.53217300000000
2010-05-29 – Wet bottom coming up
Condor has once again put my car outside. Poor Delilah is half outside. If the weather is rough and the spray comes over, she might be rusted away by morning. The weather doesn't look promising either!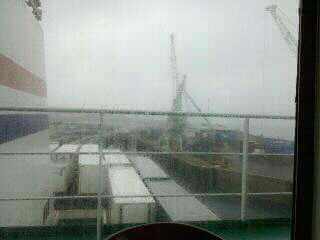 GPS:49.46068900000000 -2.53206900000000
2010-05-30 – Made it this far!
So far, so good. Delilah has only a light salt covering to remove when I find a suitable car wash. I tried to use the windscreen washer but discovered that I need to put some air in the bottle first so that the water can get to the pump…. quite strange. It is going to cost 50p unless I can wait till I get the pump from H's bike!
Also discovered that when I updated the maps on my TomTom, the European maps were removed and reploaced by the US. This did not help navigate to Southampton but at least I knew the way. When I stopped to try and "buy" some air, I used the laptop to reinstall the UK maps… all OK now and Kate is back to keep me company!!
The camper is currently parked up in a Pay & Display. With any luck, the criminals will all be asleep. The shops open at 10.30… anyone know what time the thieves start work? I may get back before them if I hurry.
In summary; camper started and got me to Southampton with no problems. 30 year old windscreen washers with new electric pumps still require air pressure. Nav devices are a waste of time if you are in the wrong country for the maps on them!
GPS:50.90000000000000 -1.40000000000000; 50.90427800000000 -1.40646500000000
2010-05-30 – Hotel Camping
We are staying in a hotel for the first couple of nights and I have found a great one hidden away in a small village. Might head out to sample some local ales later on! As soon as I can motivate myself to move, I'll get some pics of the grounds. For now, here is the view from the window!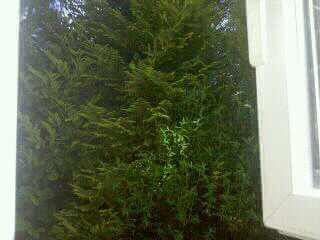 GPS:51.89328700000000 -1.18815400000000
2010-06-01 – Great Weather for Ducks!
3 words … VILE,VILE, VILE! We're in a motorway somewhere near Warwick & it's properly raining!
GPS:52.31635665893560 -1.71641802787781; 52.28333000000000 -1.58333300000000
2010-06-01 04:48 – The car in front!
This car didn't get much bigger; even up close!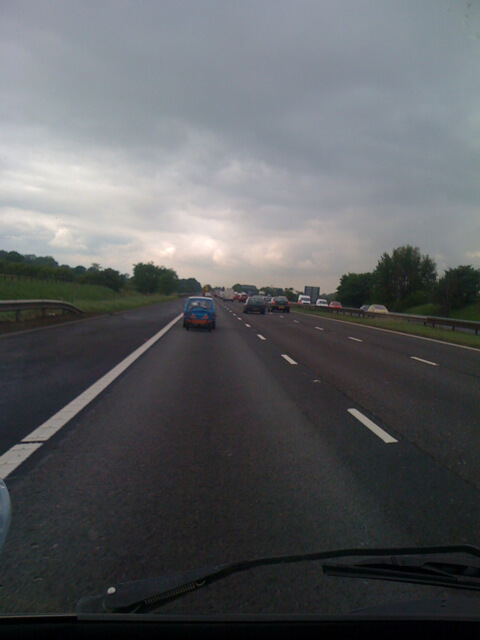 GPS:53.18453216552730 -2.37218141555786
2010-06-01 – Scenic repairs!!
There are worse places to stop and fix things. A pipe had split and some bolts came loose!!!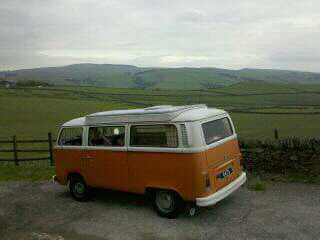 GPS:53.28494600000000 -2.05092400000000
2010-06-01 – 5 minutes past 8 campsite rules
Not able to book in as it's 5 minutes past "quiet time"
2010-06-01 – Hotel again tonight
In the Peak District staying in a hotel due to missing 8 pm check-in time of local campsites.
Looks like the Scotland tour is going to have to go on hold as Delilah is limping along 🙁 Tonight we'll have to come up with a plan b & c for the rest of the trip.
2010-06-02 – Hunting for Halfords
Stopped in a random town that TomTom has provided looking for Halfords.
GPS:53.25855300000000 -2.12823600000000
2010-06-02 11:11 – Camper repairs
Have found a Halfords & stocked up on some camper repair essentials!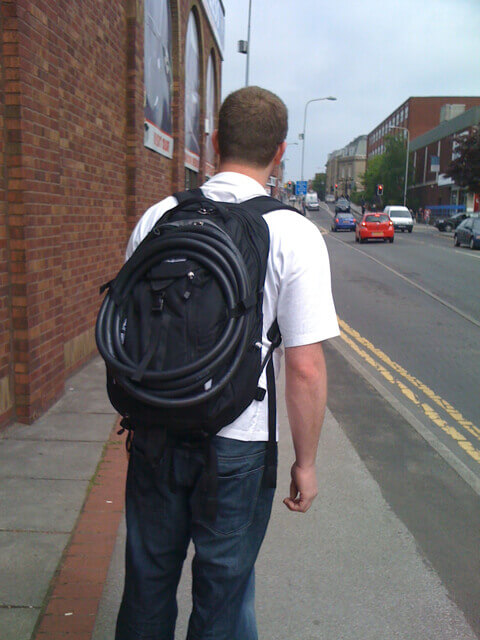 New pipe in place… should be stronger than the old one. Quite strange lying in a Pay & Display with the rocker cover off. I checked a few things and tensioned the fan belt to see if the noise goes away. Either way, with a top up of oil, we need to give her a run so off to find a camp site… any have vehicle lifts I wonder?!
This is quite good fun (at the moment) and I am considering putting my Leatherman on my belt for easy access!!!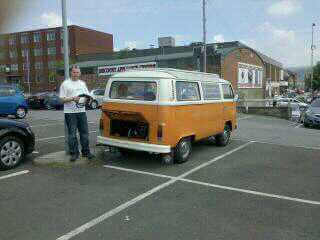 GPS:53.25837100000000 -2.12817100000000
2010-06-02 – Emergency situation
This is far more serious than the camper problems!!!!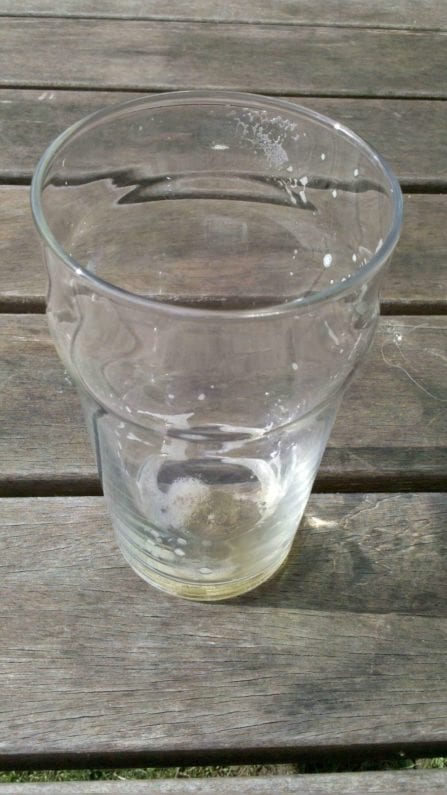 GPS:53.36506900000000 -1.81587600000000
Have been here in the Peak District for a couple of days without any mobile signal. The lack of mobile signal is no problem, but, the lack of free internet is a nightmare!! The only method of communication is pay phones. Here H is in one such relic with a matching jumper!!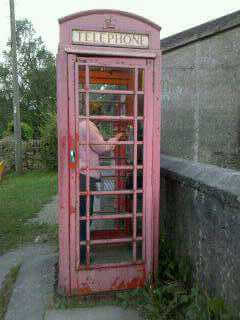 GPS:53.41667000000000 -1.80000000000000; 53.37021900000000 -1.81673500000000
2010-06-05 – Where's Delilah
A view from the peaks!!!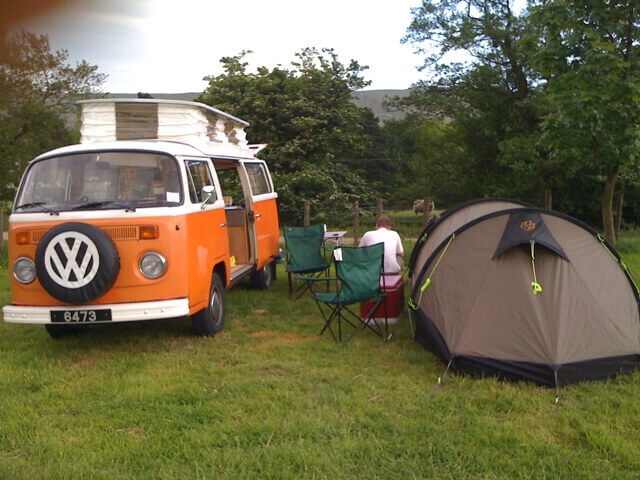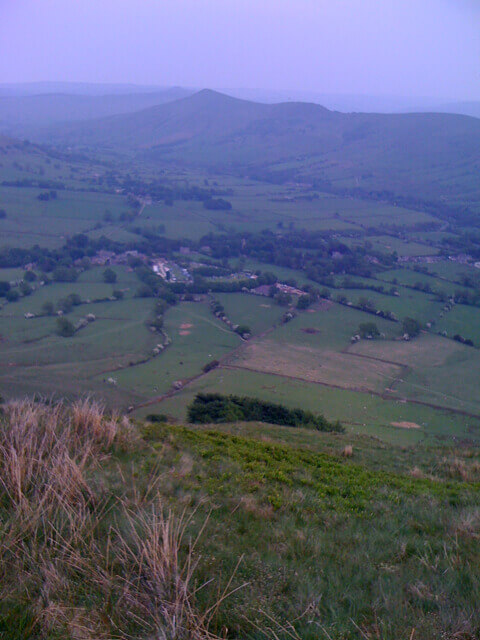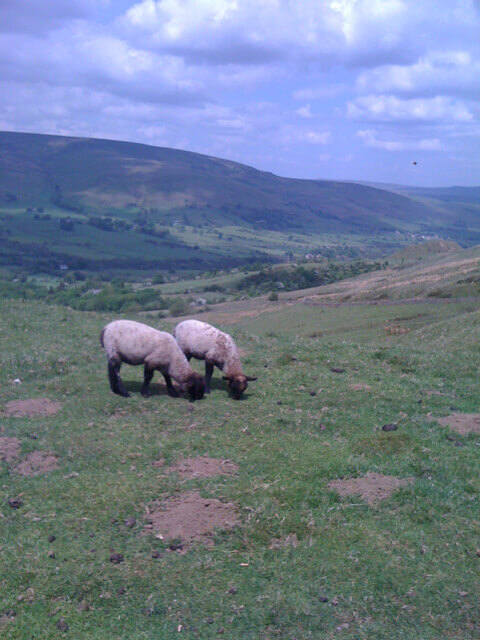 GPS:53.37088012695310 -1.83233249187470
2010-06-06 – Shane playing "Hey, Sheep!"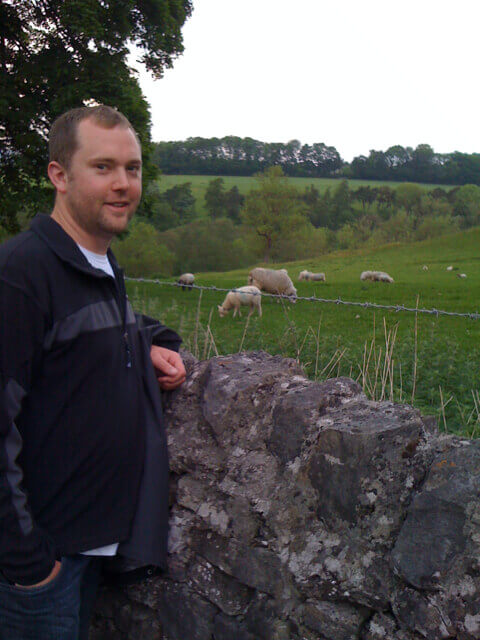 GPS:53.22049713134770 -1.69722998142242
2010-06-06 – Bakewell Tart!
In a Bakewell coffee shop eating lemon bakewell pie (H) & picnic pork pie with pork & apple sausage roll (Shane). YUM YIM 🙂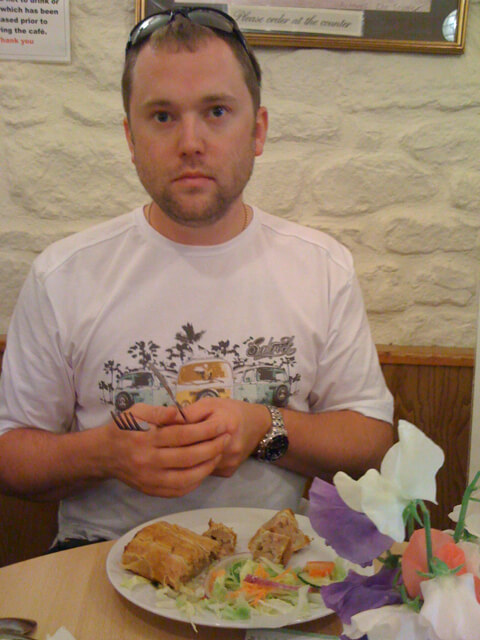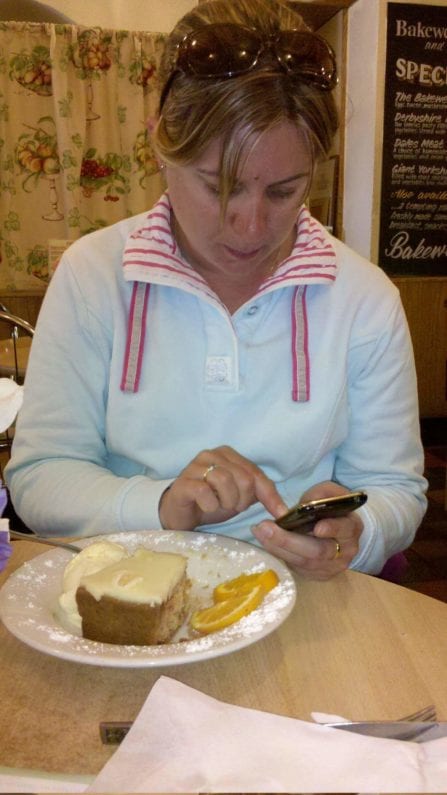 2010-06-06 – Harry Potter was here!
We are walking around a small village and H met the real Harry Potter! Apparently, he was a really nice guy but didn't talk much!!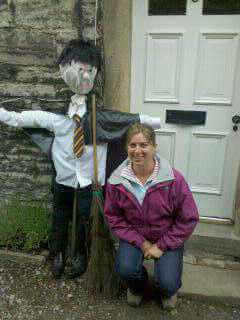 GPS:53.22383500000000 -1.71013300000000
2010-06-08 – Lunch at Denby Pottery
Shane with his pot of tea for one & huge roll! Shane: "it's solid beef baby"