Apple builds a lot of products, all of which have a focus on offering a good user experience. Any Apple product works right out of the box and, in most cases, will be a pleasure to use. I have recently discovered that it's not just physical products that have this focus. Even their support is designed to offer a good experience; enjoyable even!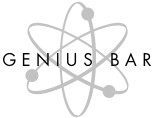 Over the past couple of months, my Macbook Pro had been shutting off when using battery power. It didn't matter what the computer was doing. If you pulled the power, within a mminute or two, it would switch off. As I was in the vicinity of an Apple store, we headed in to the Genius Bar to see what they could tell me. After some tests and a night trying to get my RAM out, they replaced my battery free of charge, even though the machine itself was no longer under warranty.
This is what Apple did right to keep me a very happy customer;
When suits you
To save you time and guarantee and appointment, Apple provide the means to reserve a slot. You can either go into your local store or use the booking facility on the store's page. I went into WestQuay and made my appointment in-store.
What's happening?
If you are standing in the store whilst they check your problem, they keep you informed about what they can see and potential causes. It is also possible to use the website to track the progress of your repair if the product needs to be left in their hands.
Did you see that?
When at the Genius Bar, they do the work in front of your eyes. Many companies will take your product to a secret workshop out of sight. When the Genius is working, you can see what they are up to. This also allows for conversation which may ultimately help identify the issue.
Ability and knowledge
The Apple staff, right from the sales people to the technical support are highly trained and knowledgeable. They really show that they love the products and believe in what they do. Compared with most of the tech/computer stores I often visit, this is a huge breath of fresh air. There is nothing worse than asking for advice and immediately knowing that the person has no idea what you mean – or what day it is!
Do what is right
There seems to be an element of freedom in how the Genius bar staff handle issues. My laptop was out of warranty and it would have been acceptable for them to acknowledge the problem and have me pay the exchange value for a new battery. In the end, the Genius said that he could see this was clearly a faulty item and, because I had done everything reasonable to fix the problem, he would replace the item for free. That is service!

Apple take the right approach to business. Sure, there is some bad press about how tightly they control things, but, in the end, it is the same control that allows them to offer the reliable products and services that they do. This experience has only bolstered my (current) positive view of the company and I really hope they keep it up.