Iceland is one of the most amazing places on Earth! From barren landscapes to beautiful glaciers, everything can be seen and experienced! I spent a short time there and had the opportunity to visit a few of the highlights within a day's drive of Reykjavvik.
Blue Lagoon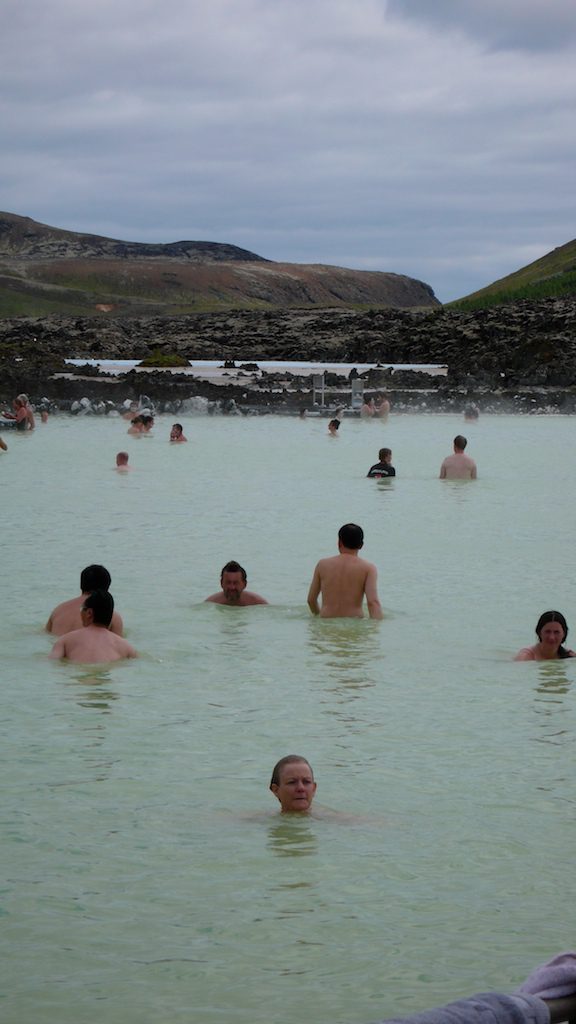 You cannot visit Iceland without heading to the Blue Lagoon! Drifting around in a pool of the power stations waste water whilst rubbing mud on your face cannot be missed! The water is about 40°C and varies based on how close to the inlet you go. The water pouring in is so hot, I couldn't get anywhere near it! This is a very relaxing place and you do leave feeling rejuvenated.
Strukkur – Stori-Geysir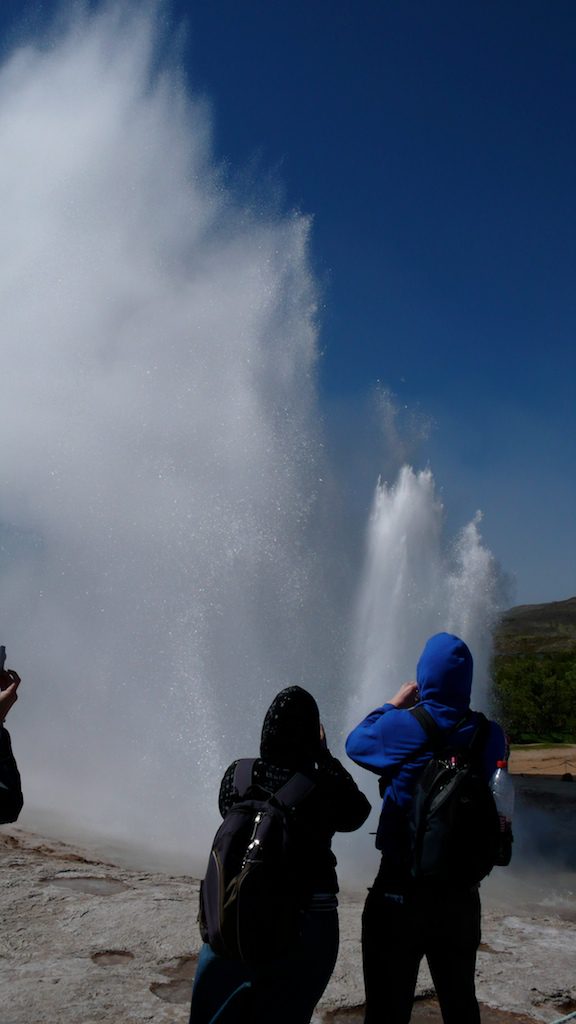 Translated, this means 'Strukkur – Great Geysir' and it is quite a magnificent sight when she 'blows'! The whole area around the geysers is geothermic, covering a boiling mass of water. Every 10 minutes the pressure builds sufficiently for this column of water to fire into the air. Be warned, don't stand downwind and don't put your hand in any of the pools – quite hot!
Þingvellír – Site of the Allthing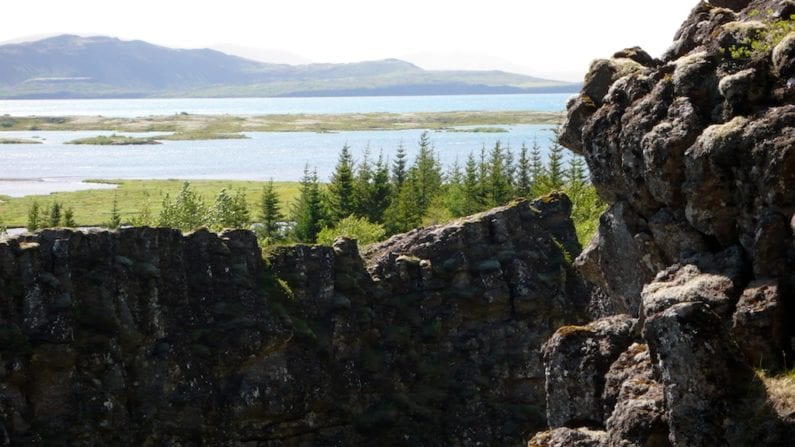 This particular area is significant for 2 big reasons. In 930 it was the birth place of the Icelandic parliament. The meet was called Alþing and continued in the original form until 1271. It is also a place where the tectonic plates of North America and Eurasia meet (and are moving apart!). This causes measurable earthquakes in the region.
Gullfoss Waterfalls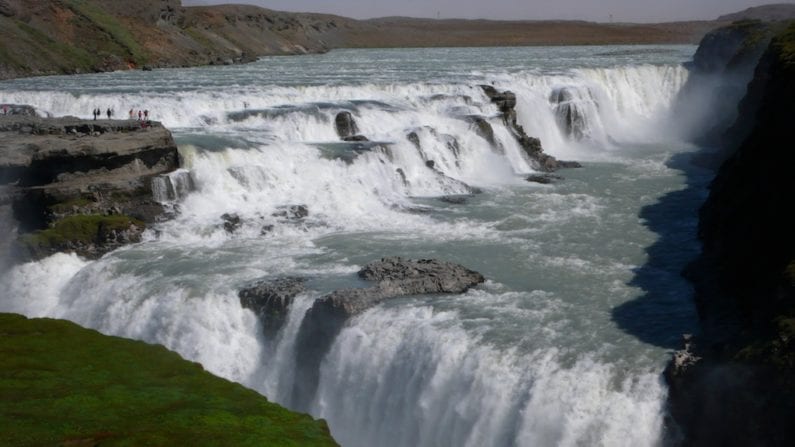 The Gullfoss (Golden falls) waterfalls are so big and loud it is actually difficult to describe. If you look at the picture, you can see people standing on the rocks to the left which gives you some idea of the scale. It is thought that on average 109 cubic metres per second of water go over but this can increase considerably during floods.
Langjokull Ice Cap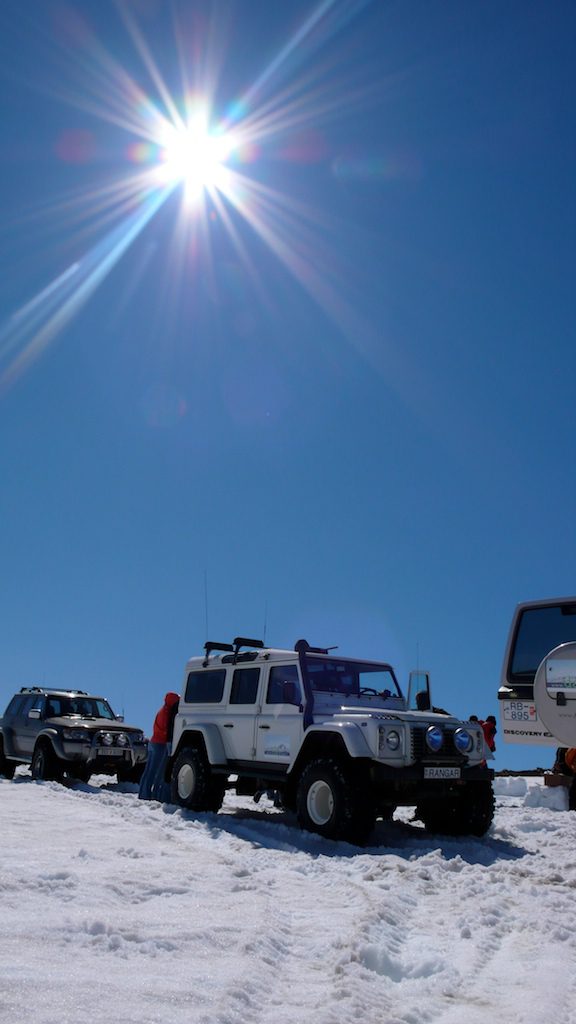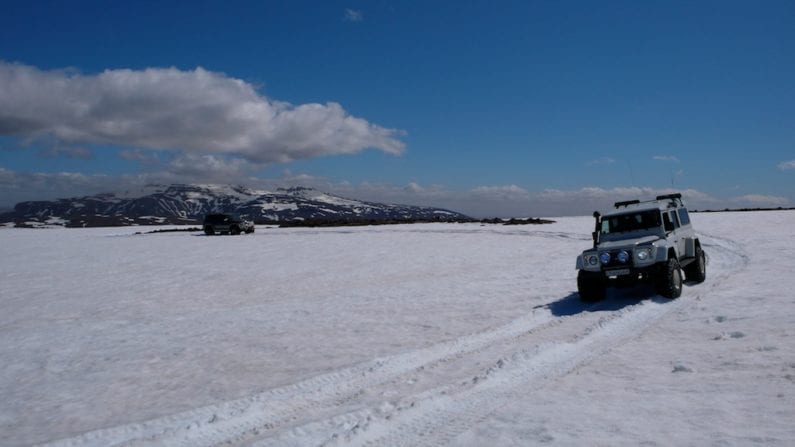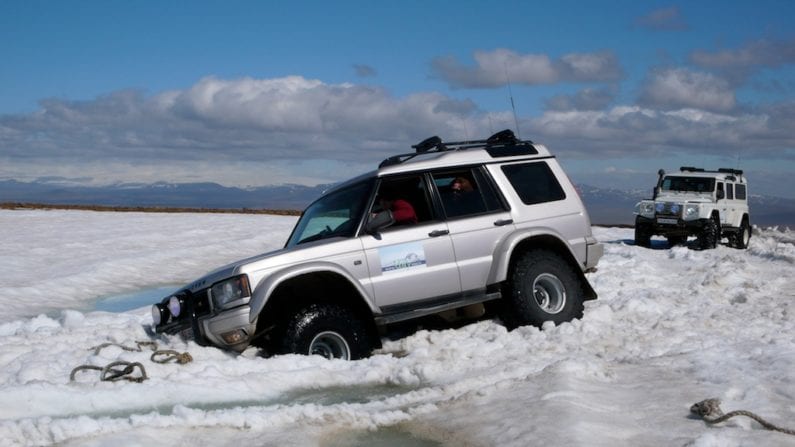 One of the most interesting things we did was head up to a glacier where we stopped for lunch. The big off-road Range Rover we were in even got stuck as it slipped through some of the ice which had become very thin. We were lucky that other vehicles were around to pull us out. The experience of the drivers is clear and they handle the terrain like I handle the drive to work.
The trip to Iceland was so enjoyable that I would not hesitate to return. Ideally, this trip would be planned so that a week could be spent exploring the country by rented 4×4. This would allow me to take plenty of camera gear and try to do the place justice. Below is a small selection of images I took on my trip. What do you think?
More photos can be viewed on Flickr.